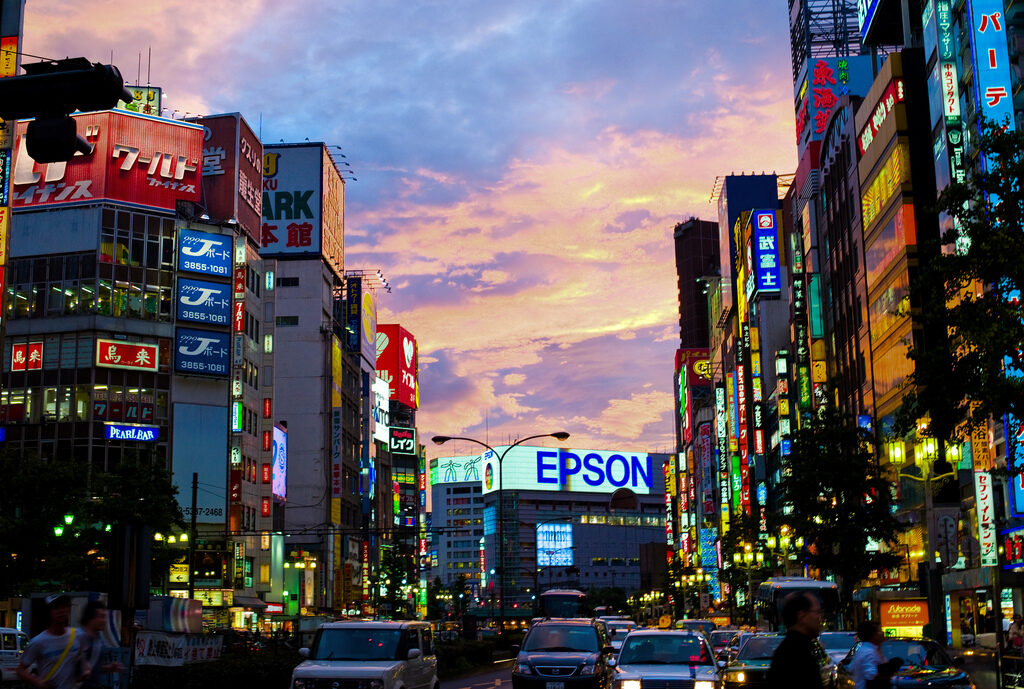 In a first for the "Places" entries about Tokyo, we're looking at an entire special ward of Tokyo: Shinjuku. This ward is the home of Shinjuku Station, not only Japan's but the world's busiest train station. You'll also find the Tokyo Metropolitan Government Building, one of the tallest buildings in Japan and the seat for the local Tokyo government.
Among the more culturally appealing attractions of the area are the Japanese Sword Museum and a number of parks. The Japanese Sword Museum, which offers English-language information about the exhibits, has over 150 swords on display. You'll also find Japanese armor. The Shinjuku Gyoen (Park) is especially crowded during the hanami season because of the spectacular view of blossoms.
Shinjuku is also known for an expansive array of shopping opportunities. A number of department stores have an anchor store in Shinjuku and you'll find mini malls as well — stores and malls such as Iseten, Odakyu, Takashimaya, Mylord and Lumine. Popular electronic stores include Yamada Denki and Yodobashi Camera.
If you're looking for food, you'll find a plethora of cheap, tiny restaurants in Omoide Yokocho. (It's sometimes called "Piss Alley," but the food isn't all horribly cheap!) The mini malls and anchor stores have slightly higher-class restaurants so you can grab a bite while you're shopping.
Kabukichou is in Shinjuku as well. Kabukichou is Tokyo's "red light district" with adults-only entertainment. That's where you'll find a large share of love hotels and host and hostess clubs. Unofficially, you'll find over 1000 members of the yakuza, the Japanese mafia, as well! Shinjuku Ni-chome is Tokyo's best known gay district, with gay bars and gay host clubs and love hotels.  You'll find plenty to do during the day and during the night in Shinjuku!
Have you ever been to Shinjuku? Are you more interested in shopping there or spending time at nightclubs?
No related posts.
Tags: japan, japanese culture, japanese places, Shinjuku, tokyo