Shibuya Tokyo is one of the most popular tourist destinations in Japan.
It's home to a bustling nightlife scene and plenty of shopping, eating out, and entertainment options.
The famous Shibuya Crossing is also one of the city's main attractions; it's touted as being 'the busiest intersection in the world' with thousands of people crossing at each signal change.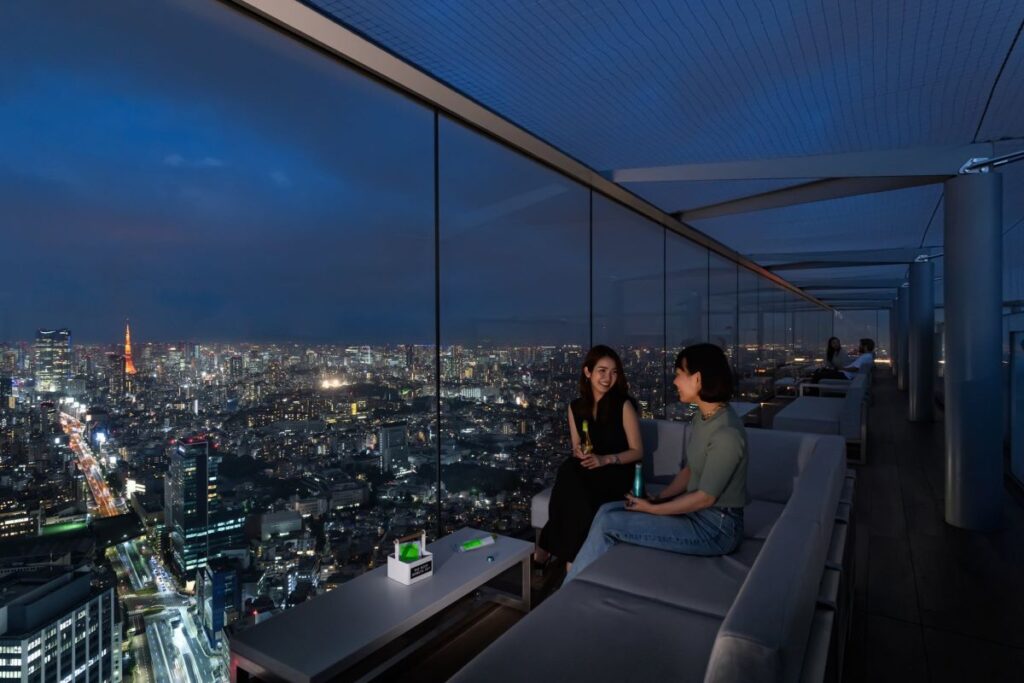 Other sights not to be missed include the Meiji Shrine – dedicated to Emperor Meiji – and Miyashita Park which has been transformed into an urban oasis full of art installations by local artists.
After dark, revelers flock to dance clubs like Womb or lounge bars like Bar Quest for drinks, music, and good times until early morning hours.
For those looking for souvenirs from their trip, there are many fascinating stores on Cat Street where you can find vintage fashion items upcycled furniture pieces as well as other unique products made
Is Shibuya worth visiting?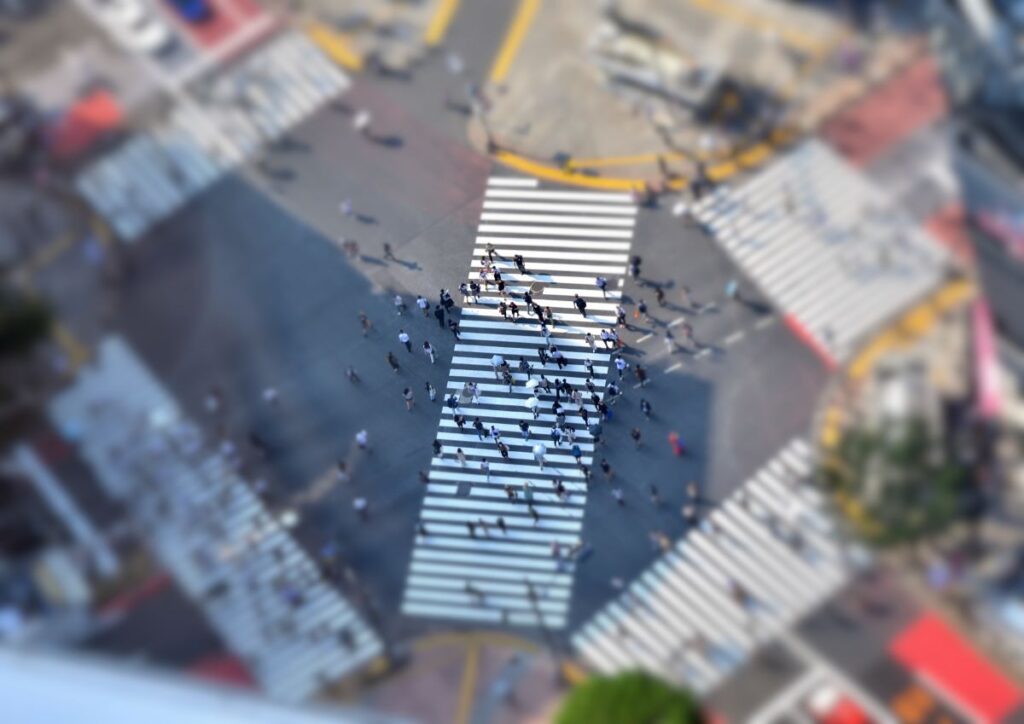 Shibuya is definitely worth visiting.
It's a vibrant, bustling city filled with exciting activities and amazing sights.
From the bright neon lights of Tokyo's busiest shopping district to dog-friendly cafes in Shibuya Mark City, it has something for everyone.
For those looking for some nightlife entertainment, there are plenty of izakaya bars, karaoke spots, and live music venues while day-time travelers will find lots of culture at museums like Museum Okinawa or Grandberry Park outdoor mall area.
Whether you're into food or fashion, or just want to explore Japan's unique locales – Shibuya is sure to provide an unforgettable experience.
Shibuya SKY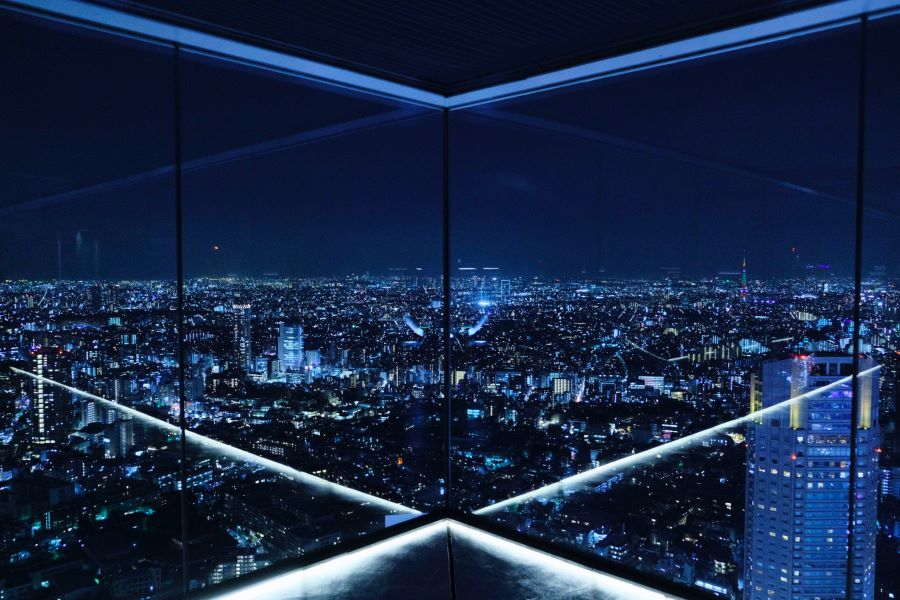 The Shibuya SKY Observation Deck is an amazing spot for any tourist or local in Tokyo to get a spectacular view of the city.
It's located on the rooftop terrace, 226 meters above ground, and offers one of Japan's highest observation decks.
On clear days visitors can enjoy breathtaking views from Mount Fuji all the way past Tokyo Tower up until Ueno Park.
The Tokyo Skytree and Rainbow bridge are also quite visible making it very impressive at night when these iconic structures light up in different colors.
During sunset it's mesmerizing as you stand looking out over this metropolis surrounded by magnificent nature just beyond that horizon line – truly magical moments like no other place.
SHIBUYA 109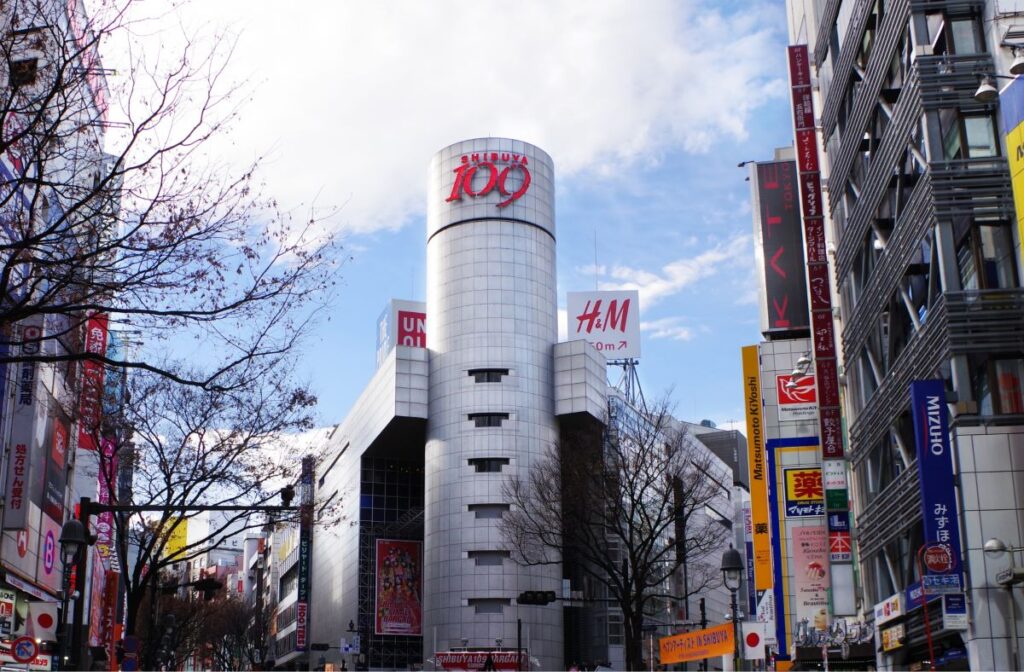 Shibuya 109 is an iconic Tokyo shopping center located next to the world-famous Shibuya Crossing.
It's one of Japan's main youth fashion hubs, and it has gained worldwide attention since its opening in 1979 as a hub for kawaii (cute) culture.
The building features nine floors packed with shops catering to fashionable young women from every corner of the globe; each shop offers trendy clothes and accessories that have been designed within their own unique style & aesthetics.
Popular brands include Lip Star, Dazzlin, LCB Jeans, and more.
Not only does this complex offer great places to buy clothing but also restaurants such as Uogashi Nihonichi sushi bar or Pepper Lunch steakhouse provide amazing food experiences too.
With so many options available both inside & outside the store – visitors can spend all day shopping on different levels browsing through items that truly capture the Japanese fashion sense.
Shibuya Crossing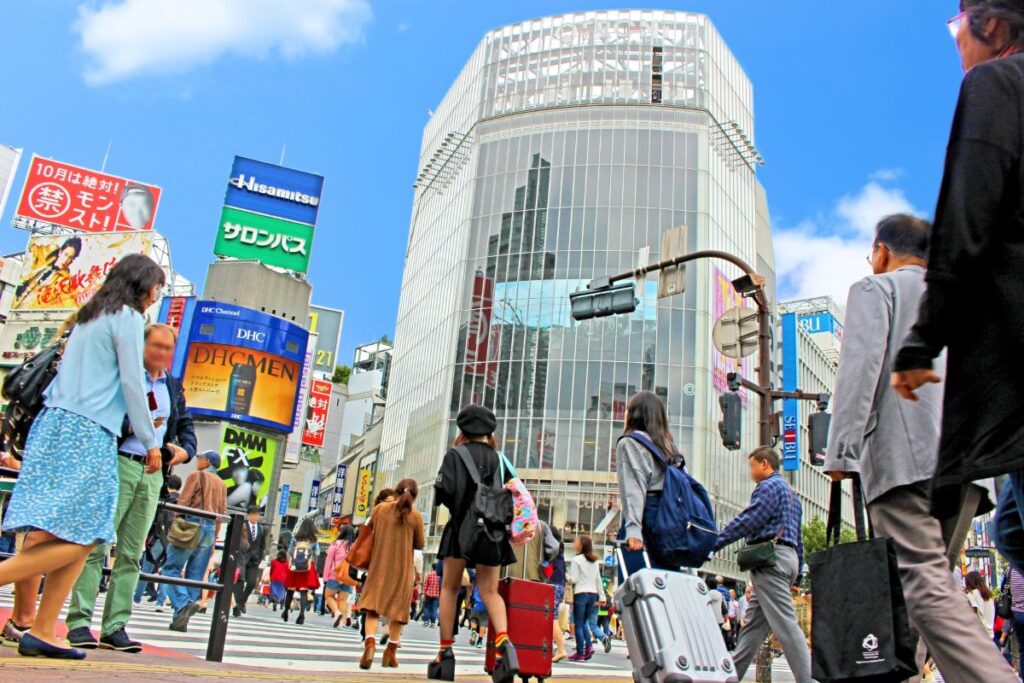 Shibuya Crossing is the world's busiest pedestrian crossing located in Tokyo, Japan.
It's where thousands of people cross the intersection at a time and it has been labeled "the Scramble." The whole area comes to life as five major streets converge – creating an amazing display of fashionably dressed pedestrians that come from every walk of life gathering together for some impromptu street-side socializing and entertainment.
From Japanese businessmen walking with their lunchboxes to young hipsters enjoying music using speakers – Shibuya Crossing provides plenty of interesting things to observe on any given afternoon or night.
On weekends there are even cosplayers coming out en masse who bring costume characters into reality; adding more color and excitement against this bustling backdrop.
Konno Hachimangu Shrine
Konno Hachimangu Shrine, situated in Shibuya, is the oldest shrine in Tokyo.
It was originally built in 1130 and has been beloved by locals from olden times till today.
At this shrine, you can find symbols such as a stag statue that symbolizes courage or signs with mottos like 'Do not do what's prohibited; promote honesty' which have significant meanings for visitors to take heart.
Every year on December 3rd there are lively festivals held at Konno where people put up stalls selling traditional foods while performing traditional dances and rituals called Kagura-den that are unique to Japan.
Yoyogi Park
Yoyogi Park is a popular spot for people of all ages in Tokyo.
It was opened in 1967 and covers an area of 54 hectares making it one the largest parks located right inside different wards.
The park provides many activities such as biking, tennis courts, skateboarding spots, and its sprawling landscapes to relax.
It's also known as a music center because hundreds come over at weekends to play various musical instruments or sing together with their friends which creates a really amazing atmosphere around the place.
You can see traditional Japanese performers showing off skills like Taiko drum performances while showcasing culture through costume dances too if you are lucky enough.
Not to mention Yoyogi Park holds numerous cultural events throughout the year including festivals dedicated towards Hanami season where locals enjoy seeing beautiful sakura blossoms blooming during springtime – a truly magical sight that must be seen when visiting there.
Meiji Jingu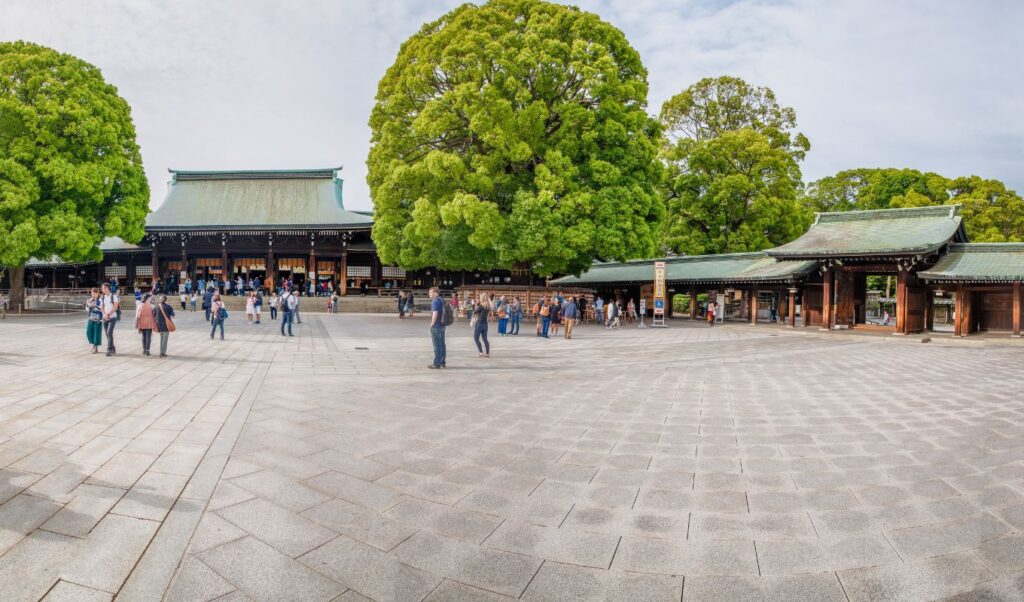 Meiji Jingu is a fascinating shrine located in Tokyo, Japan.
It was built to honor Emperor Meiji and his wife Empress Shoken after their deaths in 1912.
Inside the grounds of this grand shrine, you can find over 100,000 trees from around the globe.
Every year hundreds of thousands of people come for hanami or flower viewing during sakura season as it's one of the best spots for cherry blossoms throughout Japan.
In addition to beautiful foliage, visitors also have access to traditional Japanese gardens that provide picturesque views without fail – perfect for those looking to capture amazing photos while exploring nature's beauty.
The main hall houses two divine statues which are believed by many worshippers to be homebodies protective spirits and gods overseeing modern-day life within these sacred walls – making it an inspiring spot where culture meets spirituality beyond any doubt
Hachikō Memorial Statue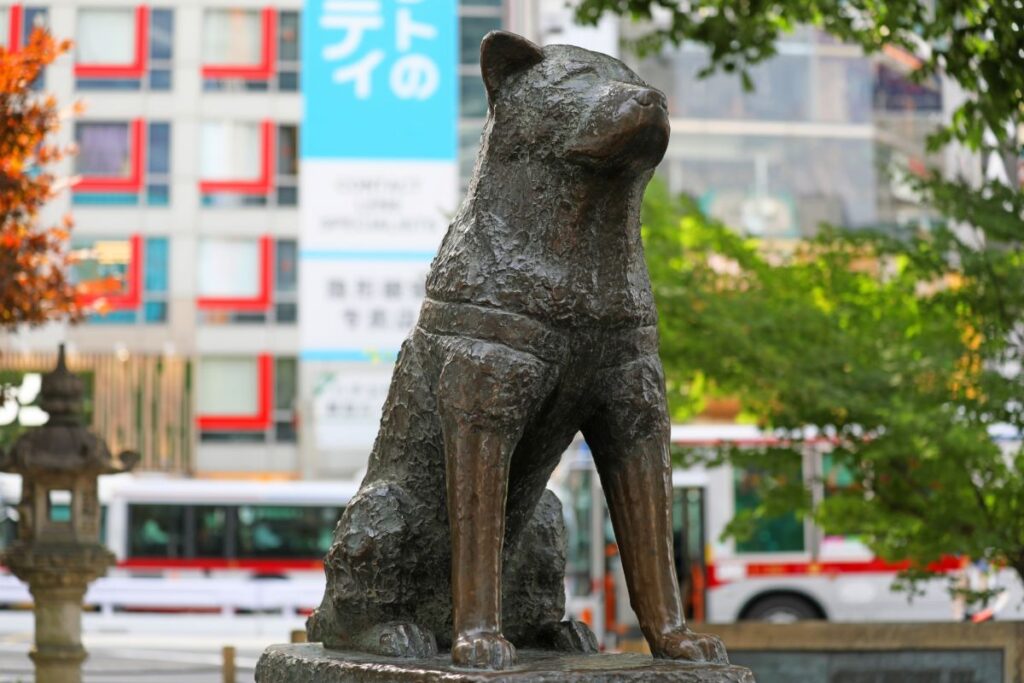 The Hachikō Memorial Statue, located in Shibuya Station Tokyo Japan is quite a sight to see.
Named after a faithful Akita dog of the same name, this statue stands tall as an inspiring symbol of loyalty and faithfulness.
Every day from 1923-1935 at precisely 4 pm, Hachi faithfully waited for his owner who had passed away yet still came every single day until he himself passed in 1935.
This heroic action touched many hearts and inspired people across generations since then — so much so that it was immortalized with the statue made in 1934 by renowned Japanese sculptor Ando Teru.
So if you ever find yourself near Shibuya ward don't forget to pay homage to one of history's most loyal sidekicks -Hachiko.
Omotesando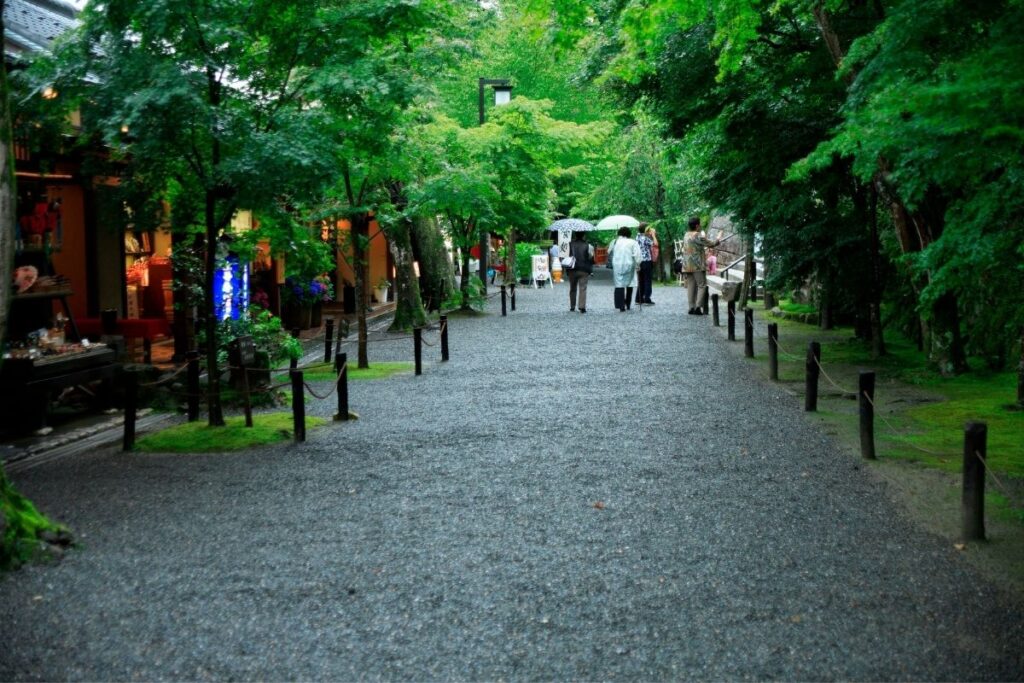 Omotesando, located in Tokyo Japan is one of the chicest and most trendy shopping districts in all of Asia.
This stylish neighborhood has hundreds of shops ranging from high-end designer stores to smaller independent boutiques that offer unique items you won't find anywhere else.
You'll often see Japanese celebrities strolling down this lively street taking advantage of its extensive selection.
One popular spot on Omotesnado is Kiddy Land – a fun store fully stocked with Hello Kitty products, anime figures, and other cartoon memorabilia sure to excite any shopper or kid alike.
Whether it's fashion or entertainment you're looking for, there's something here for everyone at Omotensando.
d47 SHOKUDO
D47 Shokudo Shibuya is the best place to grab a bite if you're looking for delicious, traditional Japanese comfort food.
Enjoy everything from sushi and sashimi platters to ramen noodles in miso broth or try one of their famous onigiri rice balls with umeboshi filling.
Wash it down with some cool Ocha tea before treating yourself to some yummy mochi desserts – all at reasonable prices too – so everyone can enjoy a meal there.
Don't forget that they also serve special local dishes like an eel over rice and shabu-shabu.
With fresh ingredients sourced daily, it's no wonder why D47 is an excellent choice when you want authentic Japanese cuisine without breaking the bank.
Bunkamura
Bunkamura, located in Shibuya, is a unique shopping and entertainment hub.
It houses an expansive museum complex with art galleries from world-renowned artists including Dali and Hockney as well as musical performances such as ballet concerts at the Opera City Hall.
This modern facility also contains diverse shops ranging from fashion to cosmetics; all catering to those who want something stylish yet timelessly chic.
Additionally, Bunkamura offers great dining options featuring Japanese cuisine that are sure to tickle your taste buds.
With its high concentration of attractions ideal for tourists and locals alike, this cultural center stands out amongst Tokyo's vibrant districts offering guests an exhilarating experience every time they visit.
Shibuya Nonbei Yokocho
Shibuya Nonbei Yokocho is a hidden gem in Tokyo that serves up some delicious food from the hustle and bustle of its narrow alleyways.
This traditional eatery has been around for decades, serving yummy treats like yakitori skewers and chicken meatballs.
The atmosphere inside is lively – it's small but packed with people chatting away and sharing dishes over drinks.
And you don't have to worry about breaking your wallet either; most items cost under $10.
Whether you're looking for an authentic Japanese meal or just want to try something new, Shibuya Nonbei Yokocho should be high on your list of places to visit when in Japan's capital city.
Meiji Jingu Gaien
Meiji Jingu Gaien is a stunning garden in the heart of Tokyo, often described as one of the most peaceful places to find solace amongst all its vibrant city peers.
This public park covers an area of approximately 570k square meters and features various sports fields, stadiums, national sports facilities, and even shrines dedicated to worshiping Emperor Meiji himself.
The centerpiece is certainly the impressive National Stadium which was used for both the 1964 Olympic Games opening ceremony and the 2019 Rugby World Cup Final match.
Perhaps less known but equally astounding are two lush traditional Japanese gardens – Meijiro-teien Garden & Sakurazuka Garden – where anyone can observe scenic views year round with cherry blossom blooms during the spring season being particularly memorable.
Nezu Museum
The Nezu Museum in Tokyo is a must-see cultural attraction.
It houses an impressive collection of Japanese art and artifacts spanning 6,000 years – from ancient pottery to modern sculptures.
The building itself was built by architect Kengo Kuma and its design reflects the traditional architecture found throughout Japan.
Not only does it contain over 7,400 works of art but also features gardens full of lush greenery that create a tranquil oasis for visitors.
What makes this museum so special though are its rotating exhibitions that bring together pieces from different periods featuring themes such as "Life in Edo Period" or "Modern trends: 2019" offering something new every time you visit.
Yoyogi Hachimangu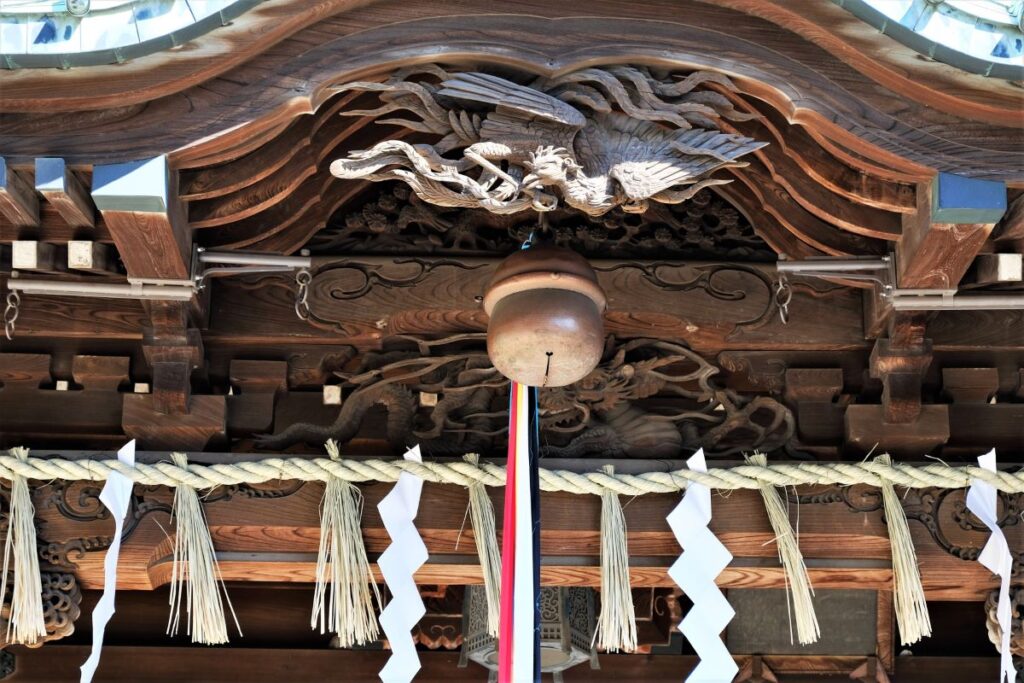 Yoyogi Hachimangu is a Shinto shrine in Tokyo, Japan.
It was founded by the third Shogun of the Tokugawa shogunate, Tokugawa Iemitsu in 1659 and dedicated to his ancestor Sakanoue no Tamuramaro who served Emperor Kammu during the 8th-century Heian period.
Yoyogi Hachimangu is known for its traditional art performances such as kagura-mai dance that dates back over 1000 years ago and festivals like Oharame which involves people carrying large lanterns through streets at night or Tanabata festival held every July 7th originating from a Chinese legend about star cross lovers Orihime & Hikoboshi.
Popularly referred to "Hacchii" amongst locals; it continues to attract crowds today with 20 days long annual Autumn Festival being one major event.
Museum of Yebisu Beer
The Museum of Yebisu Beer Shibuya is an experience like no other.
Visitors can delve into the world of beer and learn about its history, production process, ingredients, barley varieties and more.
Oh, it doesn't stop there – you also get to sample different beers from all over Japan as part of your ticketed entrance fee.
Take home a souvenir too – why not try a unique glass stein or craft beer set? With plenty on offer here at the Museum plus special events throughout the year such as tasting workshops and brewery tours; fun facts are guaranteed for everyone who visits.
The Shoto Museum of Art
The Shoto Museum of Art, located in the trendy area of Shibuya Tokyo is a must-visit for art aficionados.
With its ever-changing exhibitions, there is something new to explore each time.
The museum also offers more than just artwork: it has dedicated spaces such as cafes and bookstores available to enjoy while you take in the amazing masterpieces displayed throughout this three-story building.
Not only are paintings and sculptures showcased here – but also interactive media art experiments which provide interesting modern experiences, unlike any other typical museum.
It even features works by some internationally renowned artists like Yayoi Kusama, Marcel Duchamp, and Andy Warhol so be sure not to stop by on your next trip to Japan.
Spain-Zaka Slope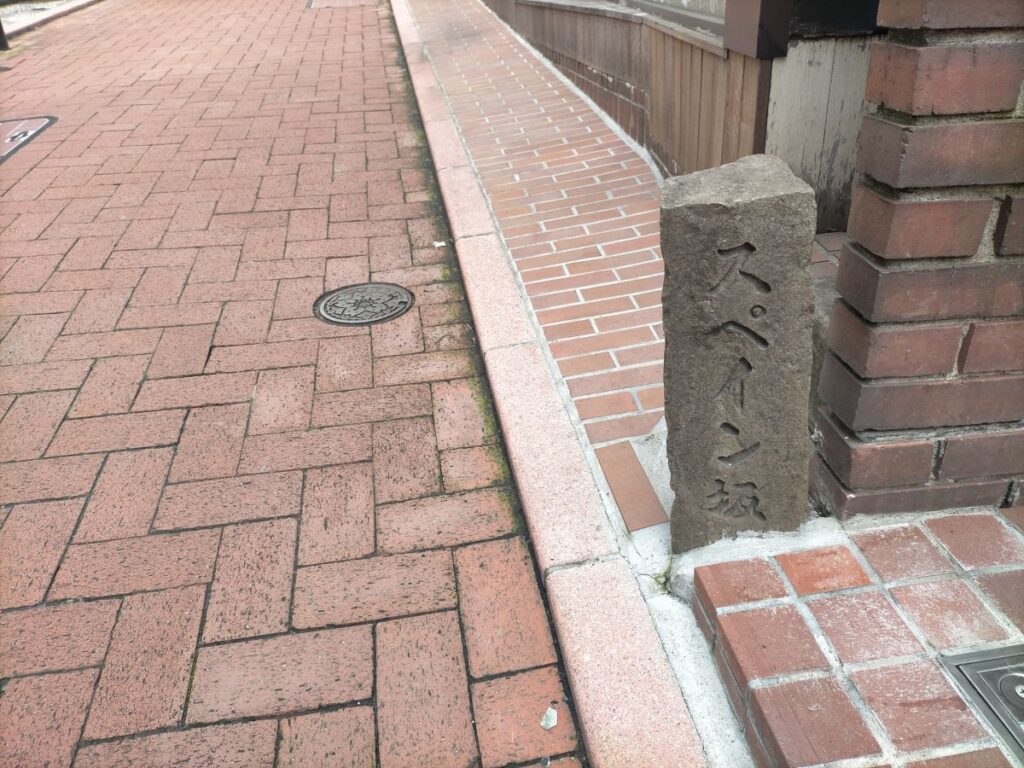 Spain-zaka Slope, in Shibuya Tokyo, is a unique shopping and dining area overlooked by the iconic statue of Hachiko.
It has been around for several hundred years, with traditional Japanese Izakaya restaurants that have stood the test of time.
Traditionally known as "Spaniard Street" it was named after Spanish merchants who would travel to Japan during the Edo period when Christianity was still not allowed in the country; thus giving us this culturally rich place where old meets new today.
The narrow alleyways provide an escape from city life while offering culinary delights like Takoyaki balls or Yakitori skewers amongst other delicious treats.
Spain-zaka provides visitors with glimpses into authentic local cultures without leaving some of its modern conveniences behind making it one must-visit place on any trip to Japan.
Shibuya Center-Street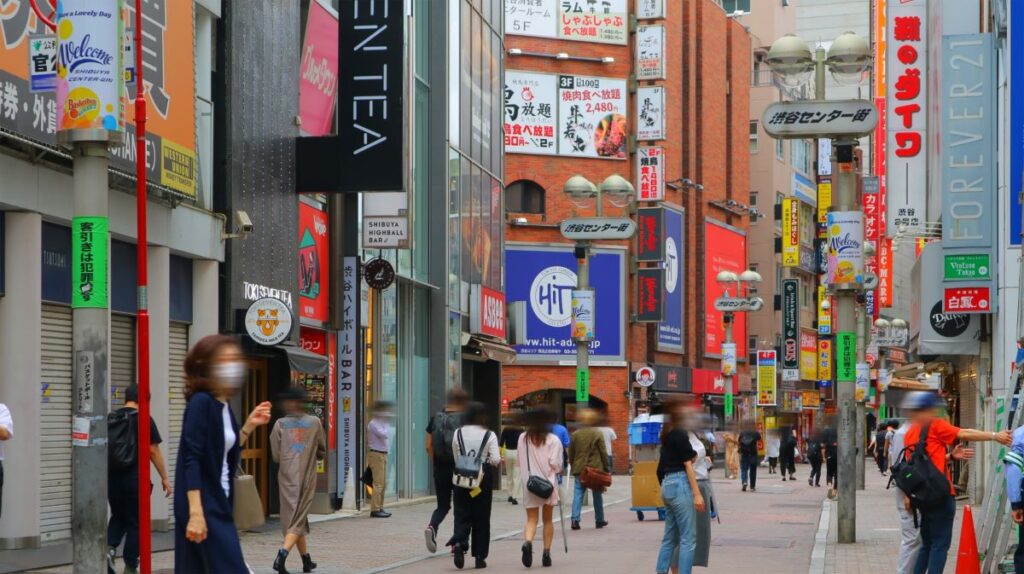 Shibuya Center Gai is a famous shopping district in Tokyo, Japan.
It's well known for its bright neon signs that illuminate the cityscape at night.
The area boasts an incredible array of shops and cafes catering to the young but fashionable crowd.
Shops range from clothing stores and beauty salons to karaoke bars.
Popular attractions include iconic 'Love Hotel' footprints on the sidewalks which can be seen by illuminated crosses lit up over a red-carpeted road – making it one of Japan's most recognizable tourist spots.
If you want to experience Japanese youth culture then there aren't many better places than this bustling hub full of lifelong memories waiting around every corner.
Dogenzaka
Dogenzaka, a fashionable entertainment district in the Shibuya of Tokyo, has been captivating people since its opening during the Meiji era.
Not only locals but visitors from around the world come here to experience Japanese pop culture and nightlife while shopping for traditional souvenirs like figurines or clothing items with kawaii prints.
The highlight is without doubt one of Japan's oldest video arcades: Club Sega Dogenzaka.
It boasts over 350 exciting arcade games covering every genre imaginable – perfect for old-school gamers.
Shibuya Station
Shibuya Station is a major railway station in Tokyo well-known for its popular nightlife, shopping, and frenzied street activity.
Located near the Shibuya crossing it provides access to two different subway lines as well as seven other rail systems which makes getting around the city incredibly easy.
The area surrounding Shibuya Station is especially famous; not only do locals flock here but so do tourists who come to experience Japan's most wild side.
In 2019 alone 2 million passengers passed through this station every day—making it one of the world's busiest stations.
It has also appeared several times in movies such as Lost in Translation and Attack on Titan offering foreign visitors an iconic look into what living or passing through Tokyo can be like.
Cosmo Planetarium Shibuya
The Cosmo Planetarium Shibuya is a must-see attraction in Tokyo.
It features an astonishing dome theatre that replicates the night sky with 10,000 stars and planets projected onto it.
This one-of-a-kind experience also includes 4D elements such as wind and scents to give visitors the feeling of being out in space.
Its educational yet fun shows are perfect for all ages, young or old – why not take part yourself?
Cat Street In Harajuku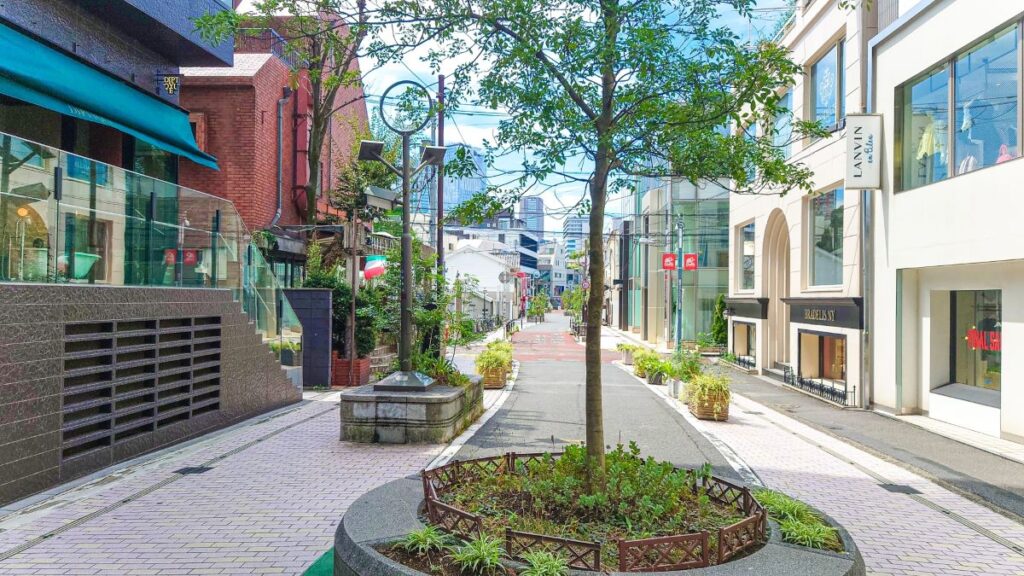 Cat Street in Harajuku is per-fect for all feline fans.
This unique pedestrian street, lined with unique shops and cafes, stretches from the legendary Takeshita-dori to Laforet.
It's a popular spot amongst shoppers who come seeking one-of-a-kind items and quirky souvenirs.
Plus there are plenty of photo opportunities here – you can pose with some fantastically furry cats outside 'Cafe Butter' or get your paws on some stylish clothes at 'Pinky Cat' boutique store.
Even better? For those extra special felines, regular cat shows throughout the summer months showcase rare breeds including Maine Coon Cats – wowzers.
Cat Street awaits…swipe right meow.
Explore Harajuku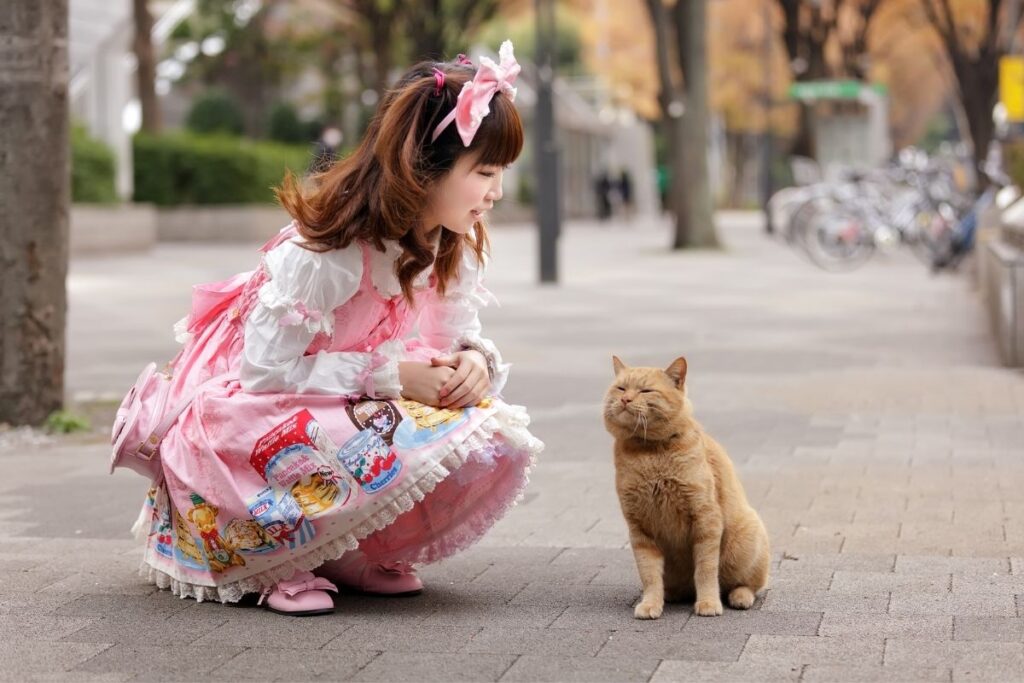 Explore Harajuku, the vibrant and colorful city of Tokyo.
From its renowned shopping streets to its iconic fashion culture, this district provides a variety of exciting cultural experiences.
Its Takeshita-dori street has been around since 1964 and is known for being one of Japan's trendiest spots where you can find cosplayers dressed in their eccentric outfits alongside vintage stores with unique finds.
Or why not take a walk down Cat Street—the area connecting fashionable Omotesando Hills with Laforet Harajuku; it's easy to see why many consider this hotspot an essential part of Tokyo nightlife.
Takeshita Street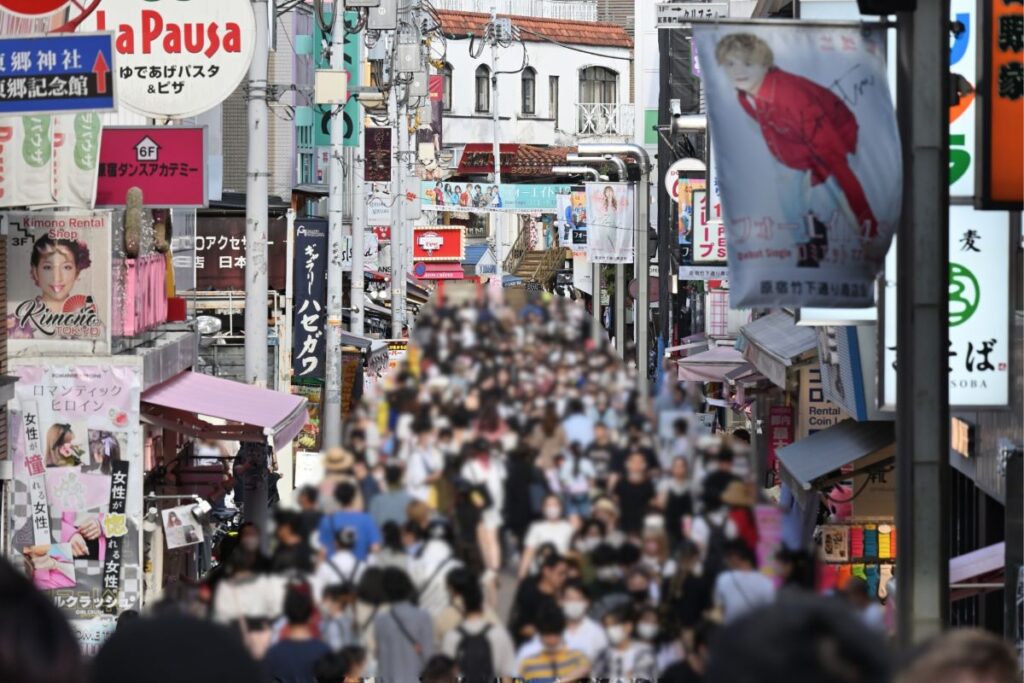 Takeshita Street, located in Tokyo's student-filled Harajuku neighborhood, is a must-see destination for anyone wanting to experience Japan's vibrant youth cultures.
Since its opening in 1964, Takeshita has been the epicenter of fashion trends from teenagers and young adults who flock there on weekends hoping to "get seen".
It offers everything from nostalgic vintage shops to modern boutique flagship stores.
The street also boasts dozens of unique eateries – including traditional crepes stands — allowing visitors to explore the country's diverse culinary offerings while staying within budget.
Each year thousands visit Takeshita Street making it one of Japan's most popular tourist attractions offering an unforgettable glimpse into Japanese urban culture.
Shibuya Station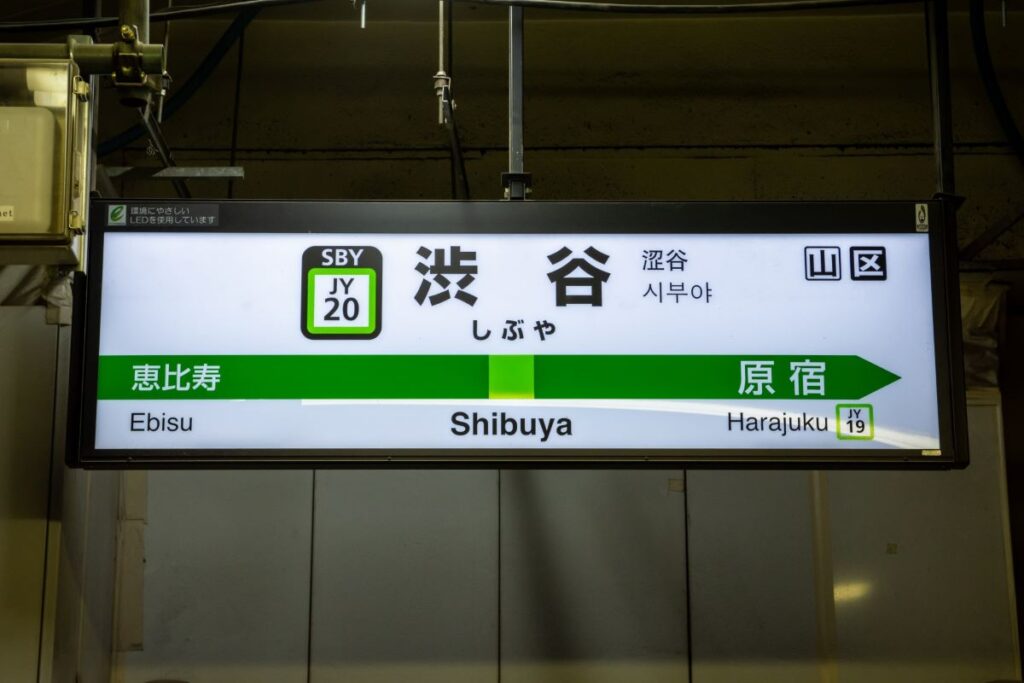 Giving interesting facts and examples is an effective learning tool as it encourages students to think, remember and apply information.
Facts are often memorable when accompanied by a relevant example or analogy that can be understood in the context of real-life experiences.
For instance, explaining the concept of friction with an example such as "friction makes it harder for one surface to move across another just like your sneakers on a slippery floor" may help explain this topic more efficiently than providing dry statistics alone.
This method also helps introduce topics in creative ways; instead of simply reading about different classes of mammals, using fun-facts coupled with vivid descriptions might present these concepts better.
Using both facts & examples together can create powerful persuasive arguments proving why something should be done – plus they make education enjoyable too.
How To Get To Shibuya By Train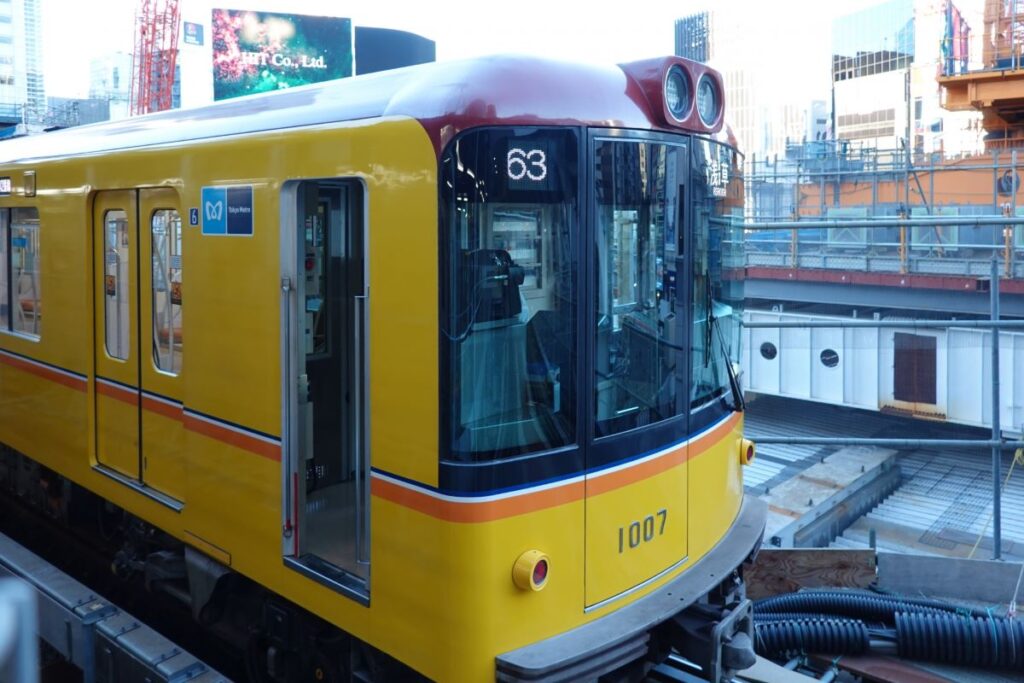 The easiest way to get to Shibuya by train is to take the JR Yamanote Line.
This route runs in a circle around Tokyo and stops at several stations along its lines, including Harajuku, Ueno, Ikebukuro, Shinjuku, and of course – Shibuya.
You can hop on this line from wherever you're starting your journey; simply consult your map before hopping on board so that you know when it's time for you to disembark.
Once off the train at Shibuya Station make sure not to miss out on any of the amazing shops located just outside like Urban Research or Tokyu Hands – two great places where bargains are found every day.