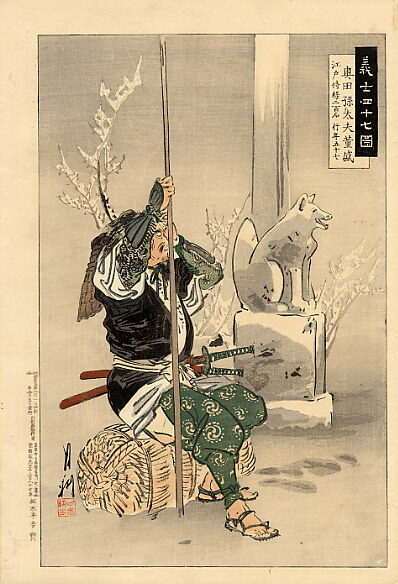 The traditional rounin is a wandering samurai–a samurai who lost his master, either to death or to his master's fall from grace. Since the samurai's entire life revolved around devotion to the master, the samurai loses his sense of of purpose. The "honorable" path for the masterless samurai was to commit seppuku ("harakiri"): ritualized suicide. Those who opted not to kill themselves wandered freely, taking mercenary, bodyguard, and odd jobs where they could. These samurai became rounin–a title that was less than honorable.
Today, rounin still exist, but they're not samurai. Modern rounin are young adults who failed their college entrance exams but still hope to attend college. (In Japan, most colleges require that you pass an entrance exam, similar to middle and high school entrance exams.) Rather than take a full-time job, these young people devote the next year to studying as hard as they can in order to pass the entrance exam the next year. They may live with their parents or take on part-time jobs in order to pay rent, but their primary focus over the next year is studying on their own to pass exams. They may attend cram schools or hire tutors–usually students currently attending the school they want to attend who have obviously passed the entrance exam–in order to help them, but otherwise, they're on their own and must keep up the motivation throughout the year.
Most colleges hold their entrance exams at about the same time each year (toward the beginning of the year; the school year begins in early April). Prospective students can take exams for as many colleges as they please during the entrance exam season, but most choose a handful of colleges so they can focus on the topics they think may be on those particular exams. (Each college makes up its own exams; the more prestigious the school, the more difficult the exam.) The exams are usually only held once a year–in fact,  prospective students usually don't get a makeup exam if they miss it, so they'll venture out even if they're ill. Solely missing an exam can turn a student into a rounin.
Some prospective students continue to fail the yearly exams for the colleges of their choice and they continue to be rounin for more than one year. Of course, they can always decide to go to a less prestigious school with a less difficult exam or to skip college altogether, but since better schooling affords better career opportunities, many students don't want to give up.
Would you become a rounin or would you rather go to a second-choice school or get a job? Would your parents support your decision?
No related posts.
Tags: education, japan, japanese culture, japanese customs, japanese history, student life