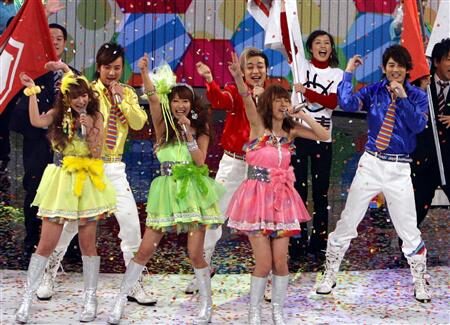 Now we're going to switch our focus over the next few weeks to New Year's celebrations in Japan, as the New Year is a much more important holiday in Japanese culture than Christmas. For the basics of the New Year celebration, read more here. We'll look at a few fun specifics of the holiday celebration over the next few weeks.
Since 1951, an annual entertainment tradition has become a part of the Japanese culture on New Year's Eve. First broadcast on radio for a couple of years, the Kouhaku Uta Gassen ("Red and White Song Battle"), often called the Kouhaku for short, has been aired on TV since 1953. A live-broadcast singing competition, the Kouhaku now lasts about four hours and ends shortly before midnight, allowing for the more typical TV countdowns when it reaches the midnight hour.
The Kouhaku is a showdown between singers. Not at all for amateur singers, the annual competition extends private invitations to popular or upcoming Japanese pop and rock singers as well as classic enka singers. It's considered a great honor in the music industry to secure a position in the competition, as it can either propel your career or validate your position as a current hot commodity in the industry. Decades ago, as many as 81% of the population tuned in to watch this event. These days, the percentage of people watching may be as low as 30% to 40%, but that's still extremely high in terms of television ratings, so the event is an annual cultural spectacle.
The competition features musical performances by the invited guests split into two teams. The red team (akagumi) consists of all female performers and the white team (shirogumi) consists of all male performers. (If there are groups or bands with male and female performers, their team membership is determined by the gender of the lead singer.) There are ten judges from a variety of fields to offer commentary and vote on the winning team, but the audience in the venue can vote as well. Like American Idol, some viewers at home are allowed to vote and help determine the winning team, but the home voters must be subscribers to a certain digital broadcasting service.
One more note on the program–sometimes the fashions, makeup, hairstyles and dancing routines can cause as much fervor as the actual singing! Since the performance is broadcast live, some last-minute costume changes sneak by the program's directors (a somewhat common ploy when singers want to wear risque or outrageous outfits).
You can see some clips from a Kouhaku here.
What do you think of the Kouhaku? What would you compare it to in your country? Would you like to see an all-stars performance of popular singers from your country?
No related posts.
Tags: holidays, japan, japanese culture, japanese entertainment, new year, television